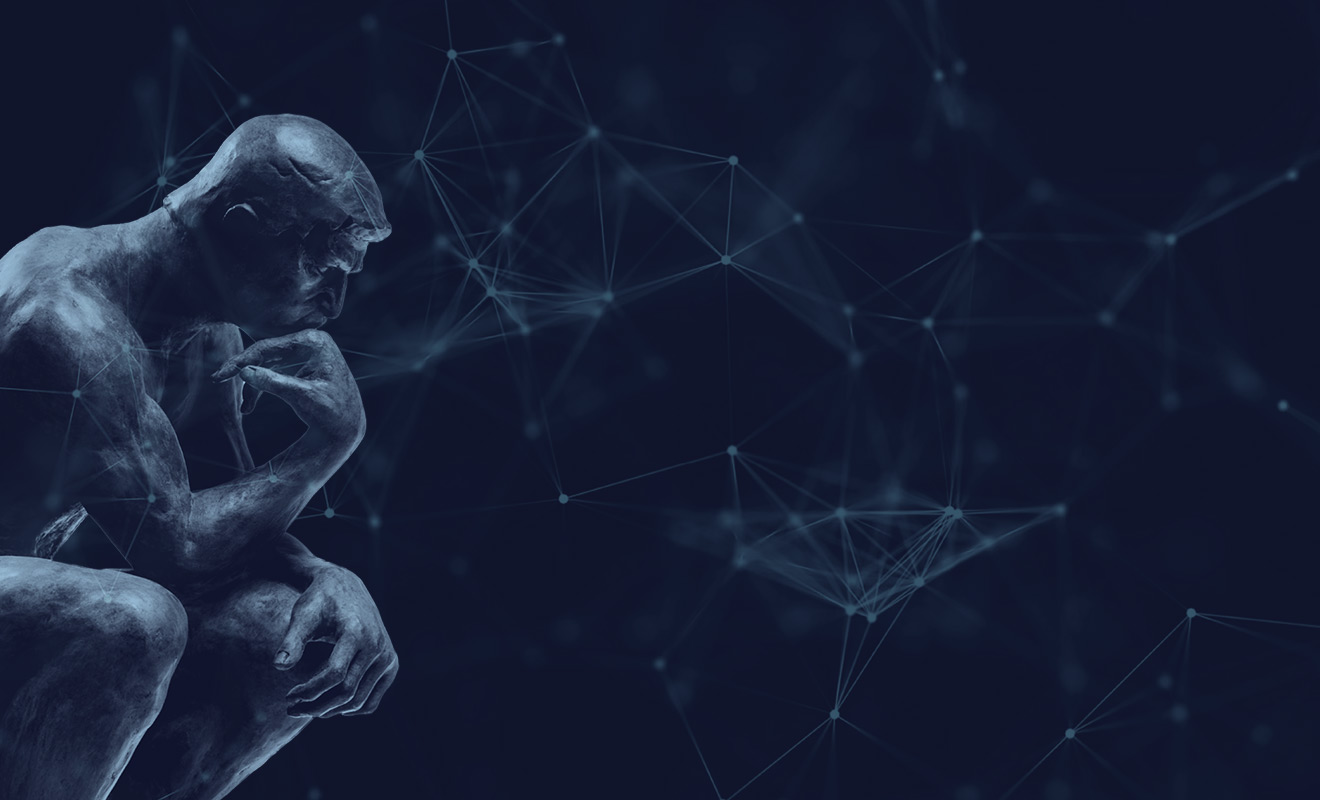 Rethink Trust Conference
Rethink Trust 2018. Highlights of the Enterprise Engineering Blockchain Conference
Author
publish date
July 6, 2018
Tags
share article
So we did it: 400 attendees, 25 speakers, 2 tracks, 1-day conference. On June 29th in Amsterdam, co-organizers Intellectsoft Blockchain Lab, By the Bay, and Provectus successfully held the blockchain engineering conference "Rethink Trust" for the enterprise sector.
Acknowledging the interest of large organizations in implementing distributed systems and the early stage of the blockchain development, we strived to deliver an alternative, high-quality blockchain conference that focused on engineering theme and use cases for businesses. In a long-term, this fits our mission of expanding distributed ledger technologies (DLTs) and advancing its adoption rate.
At Rethink Trust, we enjoyed the attendees from companies like Philips, KLM, Oracle, ING, Accenture, PwC, Shell, AWS, Deutsche Bank, Booking.com, Amazon, TheFork, and others. We were also proud to have well-known speakers from US, UK, France, Serbia, The Netherlands and beyond who shared their experience and industry insights, all gathered under the Beurs van Berlage roof and representing the following organizations: IBM, Oracle, Bosch, ING, Coinbase, BANKEX, Zededa, We.Trade, among many.
Great conference #RethinkTrust bringing business, scientist and developers together

— Joost M. Volker (@JoostVolker) June 29, 2018
In spite of tight delivery schedule and a scale of the event, we have achieved the objectives of the Rethink Trust conference and brought blockchain engineers and business leaders together, something that we haven't observed up to the date.
We are grateful to the team, sponsors, speakers, media partners, and everyone who joined the conversation around real-life advantages of blockchain technology.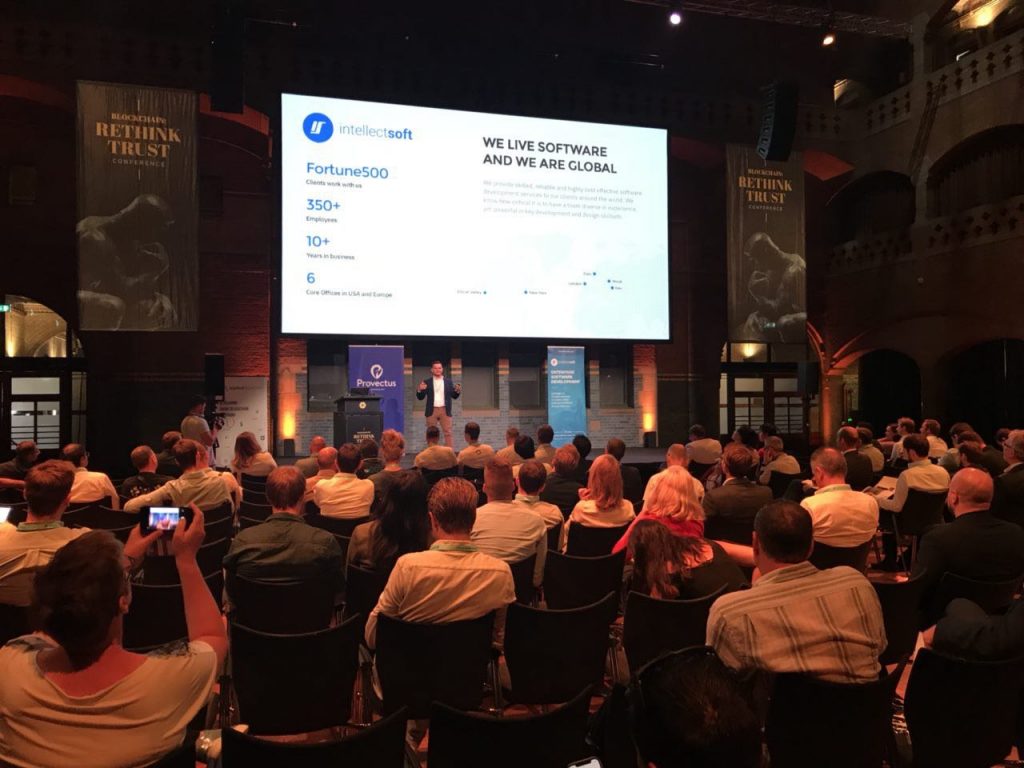 Director of Intellectsoft Blockchain Lab, Nick Kurat
The First Engineering Blockchain Conference Focused on Enterprise
The two keynoting speakers — Christopher Ferris from IBM and Mariana Gómez de la Villa from ING — set a tone for the day. Christopher energetically spoke about the potential of a distributed ledger and how it allows multiple competing parties to securely interact through sharing a common, trusted source of truth. He concentrated on blockchain particularly for finance, healthcare, and supply chain while stressing that we are currently in a five-year-long journey of experimenting with and exploring this emerging technology. To prove that, Christopher introduced a range of Hyperledger frameworks he has been working with — 10 projects in total with over 260 members across the globe.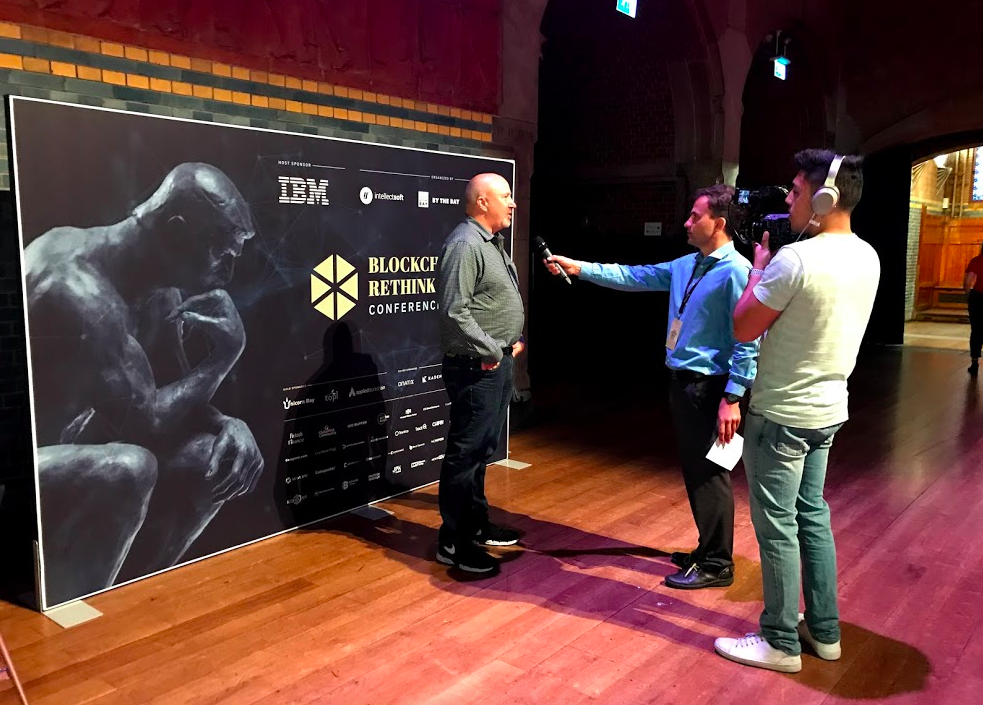 Christopher Ferris after keynoting at Rethink Trust blockchain conference
Mariana then proceeded with a thesis that we will be moving further away from a blockchain and towards new DLT solutions. She claimed that blockchain was never designed to solve the problems of financial institutions, although today 30% of the projects target banking and finance. Mariana supported the speech with live examples like ING's project LEIA, a self-sovereign identity on a shared KYC utility. Her personal contribution to the industry is 44 Proofs of Concept (POCs) and 6 live pilots.
Joost Volker who represented Oracle expressed his views (and facts) on how to make enterprise blockchain a reality. Joost spotlighted four characteristics of the blockchain technology: a single source of truth, trusted transactions, near-real data sharing, and immutable ledger store, which could help with:
Enabling distributed, autonomous marketplaces
Reducing friction in business reconciliations
Maintaining and sharing decentralized records securely
Tracking the provenance and providing higher levels of audit trail
At least two dozens of organizations used his company's blockchain solution in their pilot programs.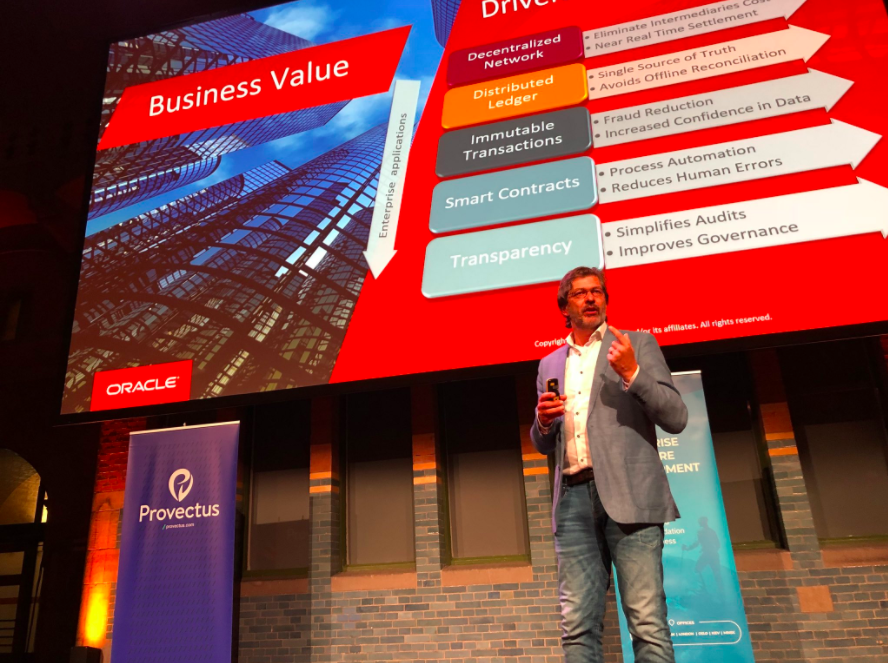 Joost Volker, Oracle, at Rethink Trust blockchain conference
Nick Kurat, Director of Intellectsoft Blockchain Lab, shared insights from enterprise blockchain engineering: there are currently almost 300 corporations exploring benefits of blockchain technology. Nick touched upon some of the 50 real-world blockchain technology use cases. He persuaded the audience that cryptocurrencies and blockchain were too big to ignore in 2017 but in 2018 they are becoming too big to fail. However, companies still need to direct their resources to ensure that scalability, maintenance, interoperability, and cost of ownership correspond to the projected benefits of blockchain technologies. The speaker emphasized that the cost of error is extremely high in the corporate sector.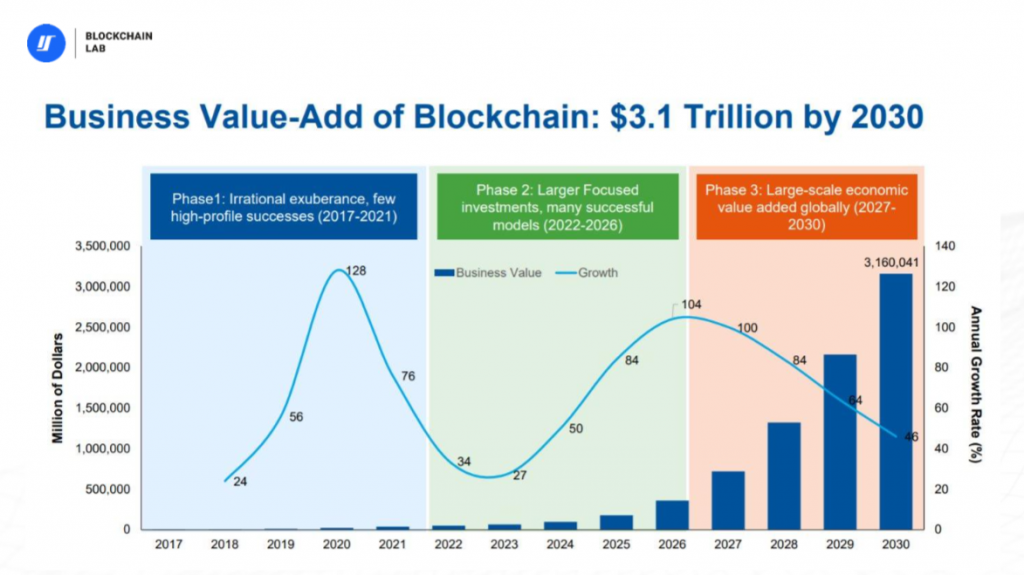 Gartner Report: projection of growth for the Blockchain Industry. From the presentation by Nick Kurat
Workshops and Practical Uses of Blockchain Technology
During workshops we passed a hands-on experience of how to use blockchain technology, what are the types of decentralized technologies, and what uses of blockchain technology are relevant to particular enterprises. Arnaud Le Hors from IBM explained Hyperledger Fabric framework and its specifications. Nick Edmonds from Topl gave a master-class of creating "Blockchain in Scala."
Tim Kozak and Nick Kurat from Intellectsoft Blockchain Lab conducted a workshop on "Blockchain POC Development for the Enterprise" and told about best practices and process. They also made an overview of available platforms and compiled a comparison table  of these blockchain technologies. Yuri Vizitei presented the Provectus Blockchain Framework. At his workshop the participants had a chance to learn about trustless cooperation within and between enterprises and how utilizing blockchain with other complementary technologies helps this process.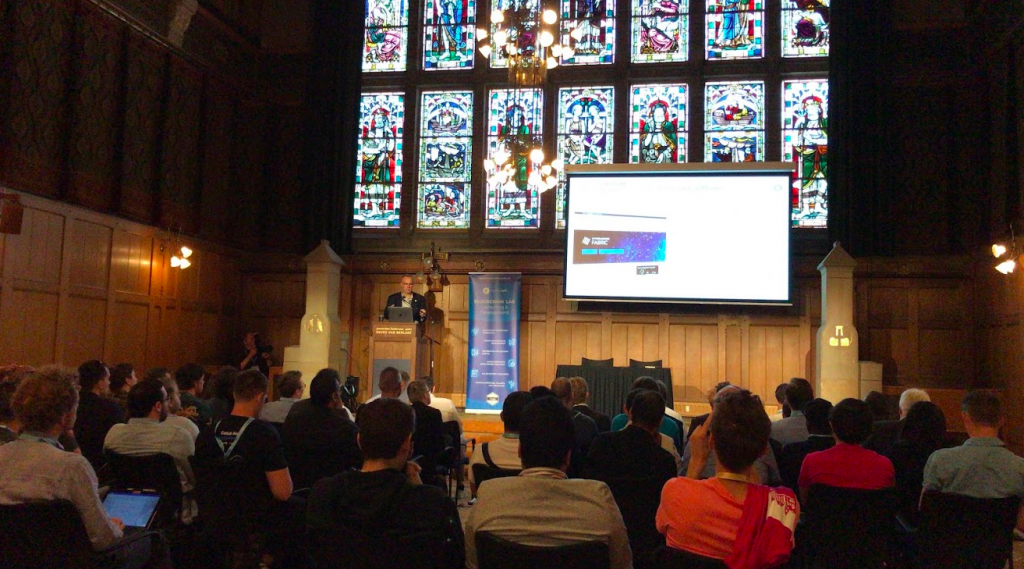 Full House at our workshops proving a good fit for the Rethink Trust audience
Also, when Douglas Beardsley from Kadena was giving a speech he pointed out the vulnerabilities of Smart Contracts and how it could be changed to satisfy the critical demand for security on the side of enterprises that aim to integrate blockchain in their blockchain verticals. For example, Ana Trbovich, a co-founder of Grid Singularity and Council Member of Energy Web Foundation, gracefully explained how open source blockchain for the energy industry simplifies the process of issuing and tracking certificates of origin.
With a focus on engineering, we were proud to have developers who relentlessly explore the power of distributed ledger technology. As part of "Rethink Trust" blockchain conference 2018, professor Johan Pouwelse presented a research on trust done by his lab in Delft University of Technology. They have been creating distributed trust designs for more than 20 years, and Johan's personal contribution is hundreds of graduates who now pursue their career in the field.
I've got to say #rethinktrust is now my favorite event in the blockchain space. Tons of really, really useful nuggets of information. Like this one, for example: https://t.co/wti9fXHXKD

— Roman V Shaposhnik (@rhatr) June 29, 2018
Roman Shaposhnik from Zededa underlined a missing link between IoT and a trustworthy, computationally verifiable reality — the one that blockchain technologies could enable. Yonathan Sompolinsky from DAGlabs explained the nature and advantage of Directed Acyclic Graph or DAG. Michael Egorov from NuCypher made Rethink Trust truly a blockchain technology conference explaining his approach to a secure key management system (KMS): it is uncensorable and decentralized.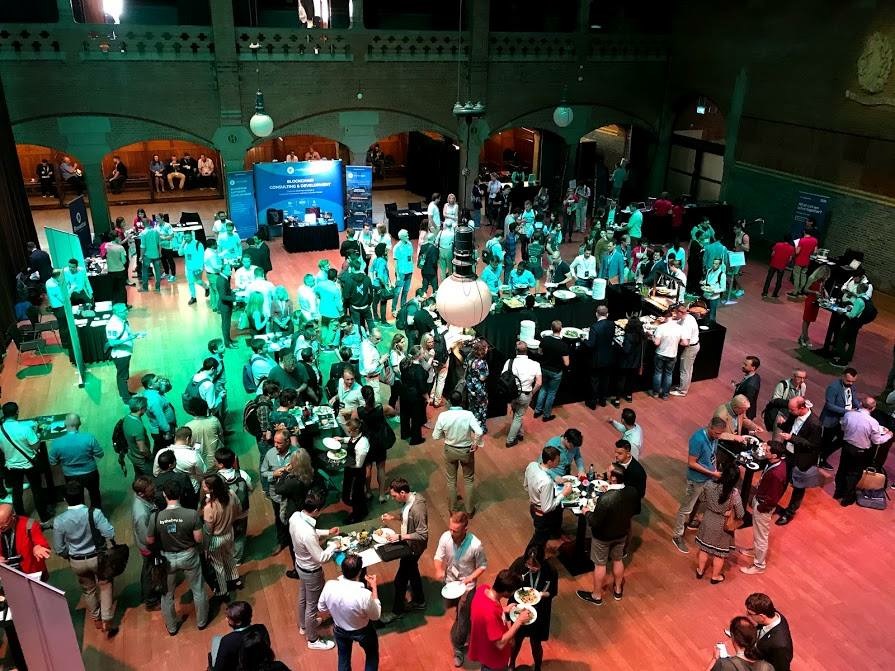 Networking was a crucial part of the event
Rethink Trust, Then Achieve It
Founder and CEO of Provectus, Gene Galanter, has talked about the paradigm shift in confidential data control and emerging trends in application architecture for handling confidential data and compliance by design. Therefore, a new state of trust could possibly be achieved with help of digital vaults in the cloud. And then it was Kristen Stone from Coinbase who parried tough questions regarding a centralized party — which is her company — in a decentralized ecosystem. As Kristen noted, "confusion erodes trust, but forks evolve trust." She also shared how the biggest cryptocurrency exchange eliminates any security flaw and opens the door to millions of customers who want to buy bitcoin and its variations.
Finally, Dr. Alexy Khrabrov has chaired the closing panel that included experts on the intersection of finance, IoT, and blockchain: Roberto Mancone (We.Trade), Nik Scharmann (Bosch), Clara Durodie (Cognitive Finance), and Rashid Hoosenally (Lacero SmartVault). They discussed the Future of Business Blockchain along with possible challenges and predictions. Some of the messages from the panelists were: "We might not use word 'blockchain' after a year" and "A likely scenario in future is a federated blockchain of corporations who transfer data between each other securely and without relying on a trusted third party."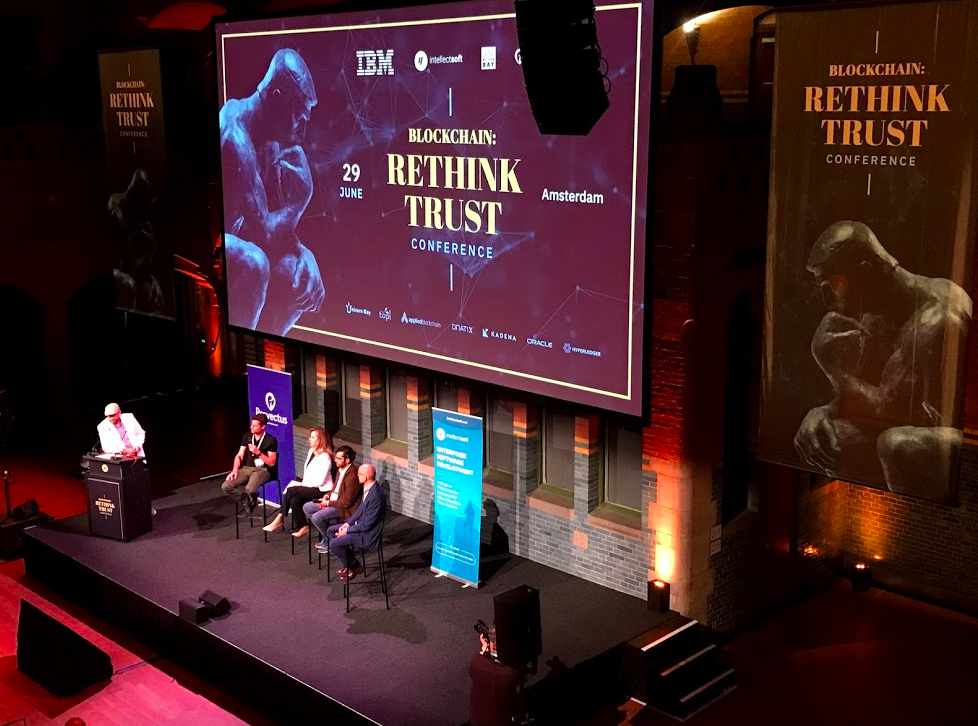 The Closing Panel of Rethink Trust blockchain conference
Needless to say that we aimed to deliver real value to all the participants when organizing the event. The true adoption of blockchain technology by large entities has only started but available distributed solutions are not ready for the enterprise. With forums like this, we are able to exchange expertise and offer proven practices from dedicated teams.
Moreover, it is important to keep track of the development and ensure the synergy we observed in Amsterdam on June 29th. Therefore, next year you are going to witness the Rethink Trust 2019 conference. We invite you to subscribe to our Twitter account for new announcements. Updates regarding Rethink Trust conference 2019 will be out in November this year.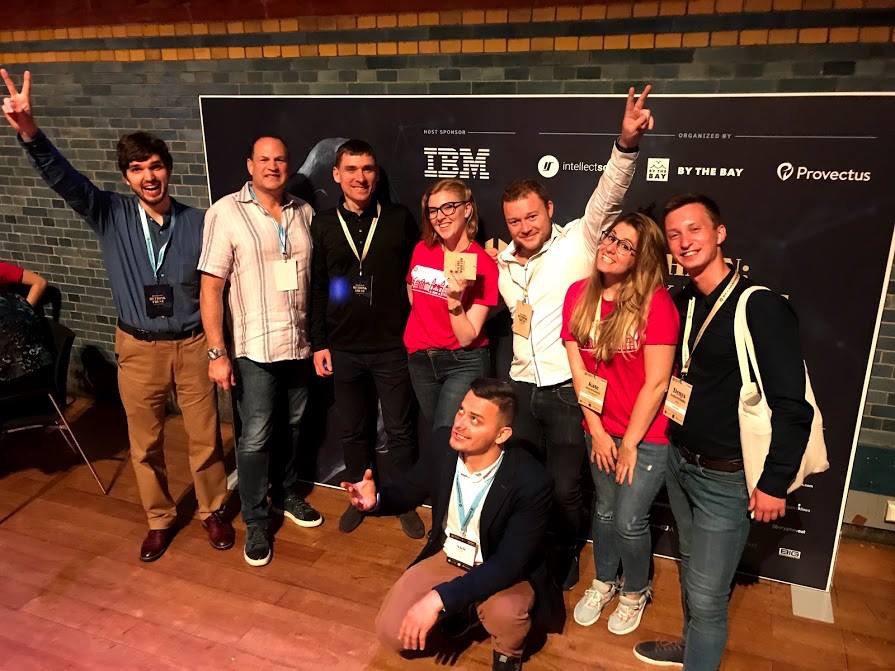 Thank you for following us. Intellectsoft Blockchain Lab team